Through Punakha Valley
As its name tells, the Samtengang Winter Trekking is possible all through the winter due to a low elevation, under 2100 meters. This program shows no acclimatization problems and is adapted to everyone.
You go through lovely small villages in the Punakha Valley such as Chhugsakha and Sha and spend one overnight on the banks of Samtengang Lake. A nice hike in the heart of Bhutan.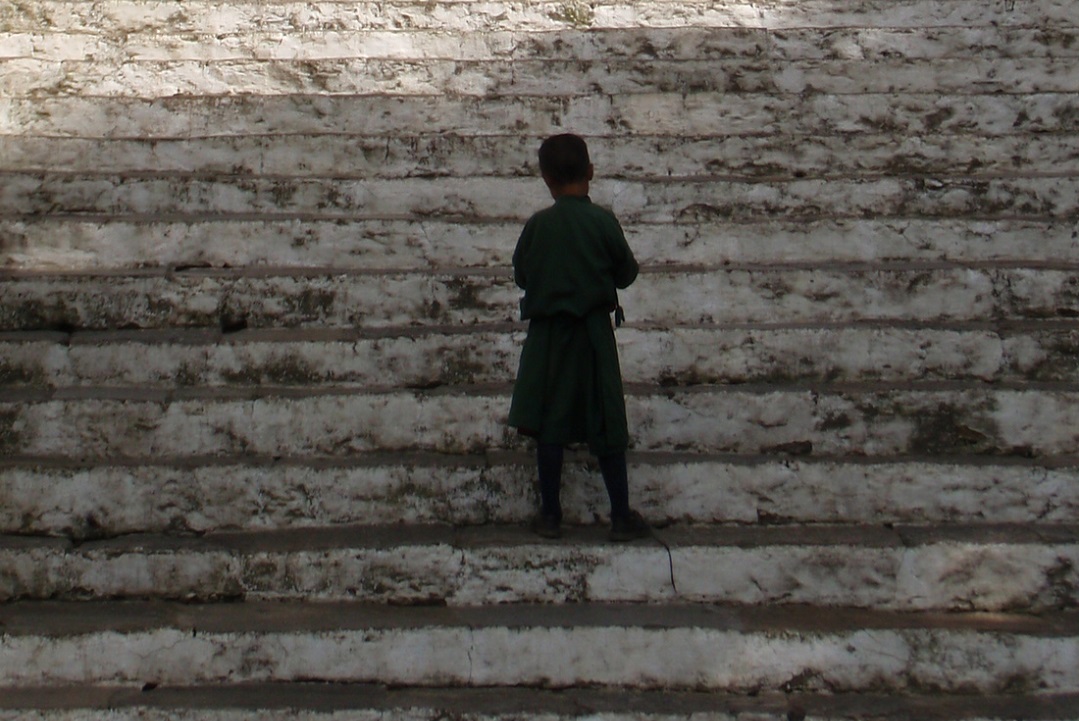 Season
1 October – 30 May
Duration
9 days including 4 days of walking
Accomodation
Hotel / Camping
D1   After landing at the international airport of Paro (2200m) and proceeding through immigration, you are welcomed by your guide who will escort you all along your stay in Bhutan.
Later on you visit Paro Dzong, a symbol of symmetry, also called Rinpung Dzong overhanging the city. Close by is the National Museum located in a watchtower. It gathers tapestries, numismatic and philatelic collections, weapons, etc…
Night in Paro.
D2   This morning starts your trek towards the main attraction of the country: the Taktsang Monastery also called the Tiger's Nest, a Buddhist monastery hanged on a cliff at 3000 meters elevation. The legend tells that, during the 8th century, the Guru Padmasambhava landed here on the back of a tigress to deliver the Bhutanese people from demons ruling over the region. The climb is an average of two hours walk. The complex overhangs a pines and rhododendrons forest and the valley 900 meters down.
During the afternoon you drive to the Chele-la Pass, at 3988m, highest pass in the country opened to road traffic and covered with colorful flags. En route, enjoy the nice view points over Paro airport.
Night in Paro.
D3   From Paro, it is around four hours drive to reach to Punakha (1300m). You first head to Dochu-la Pass, at 3300m. This place is remarkable as it is composed of 108 small chortens outstanding the pass. To the north, enjoy Himalayas view: the Masagang (7200m), the Jejegangphugang (7158m) or the Kangphugang (7170m).
Then you arrive in Punakha, the former capital city of Bhutan until 1955. The massive Punkaha Dzong or Pungthang Dewachen Phodrang Dzong is located at the confluence of Mo Chu (female river) and Pho Chu (male river). The visit of this fortress has great promises.
Night in Punakha.
D4   Punakha – Limukha (1980m) – 12kms / 4h.
D5   Limukha – Chhungsakha (1550m) – 14kms / 5h.
D6   Chhungsakha – Samtengang (1830m) via Sha (2100m) – 13kms / 4-5h.
D7   Samtengang – Chhuzomsa (1350m) – 5kms / 2-3h.
From Chhuzomsa you are transferred to Thimphu (2320m), the capital city of Bhutan. In Thimphu, you visit the Tashichho Dzong which name means "fortress of the glorious religion", a massive edifice where coexist Bhutan's politic life and religious life.
Night in Thimphu.
D8   The day starts early at Kuensel Phodrang where is the statue of Dordenma Buddha enlighted with the first rays of sun from the top of its 50 meters high. Then you visit the National Library which contains a lot of Buddhit literature which some books aged centuries back. Besides is the Zorig Chusum Institute, a school teaching the thirteen traditional handicrafts to its students, from embroidery to painting, sculpture and pottery.
After lunch, you can hope to assist to an archery match, the national sport, for some time. Then you visit the National Memorial Chorten erected in the memory of late Jigme Dorji Wangchuk, the third king of Bhutan. The place is perfect to interact with locals. Later you head to the National Folk Museum and the Textile Museum before reaching the National Handicraft Emporium, a shop selling Bhutanese handicraft.
In the evening, hang out in Town Square where gathers Bhutanese youth.
Ngiht in Thimphu.
D9   After an early breakfast you drive back to Paro for your international flight.

Price includes
All transfers as per itinerary with private vehicle
Bhutanese visa and Bhutanese Tourism Development Fund
Entrance fees
9 days trek on full board (3 meals a day, except drinks)
Hotel accommodation (while sightseeing) and camping accommodation (while trekking)
Camping equipment while trekking
English speaking guide, his/her salary, transportation, food, accommodation, insurance
A cook and kitchen boys while trekking
Horses to carry stuff while trekking

Price does not include
International flight from your country
Insurance and medical evacuation in case of emergency
Single supplement (30$ per person per night)
Trekking equipment (sleeping bag, trekking shoes…)
Personal expenses (drinks, laundry, internet…)
Tips for local team
NepalaYak besides you
You will find below information regarding your stay in Nepal. Feel free to contact us for any other question.
Introduction to Bhutan
INTRODUCTION
Bhutan is a 38 400 kms² land which made it one of the smallest countries in the world where only 750 000 people live. Its capital city Thimphu is the biggest city of the country.
Bhutan is the last Himalayan Kingdom practicing Buddhism as its national religion. Its traditional name is Druk Yul meaning "the land of the thunder dragon".
HISTORY
Bhutan was, for centuries, made of independent provinces fighting with each others. In 1907, the unification of this Kingdom in its current borders happened under Ugyen Wangchuck's rule, the first King of Bhutan, establishing the Wangchuck dynasty.
Although it is close to the rest of the world and people are having a traditional way of life through agriculture and commerce, Bhutan slowly started to bloom out. Thus in 1953, the King Jigme Dorji Wangchuck settles a National Assembly in order to promote a political system more democratic. The next years, other treaties are established focusing on modernizing the political life of the country. Scared with the fate of Tibet invaded by China in 1959, Bhutan slowly started to come out from its isolation and got closer with India through new road networks and commerce exchanges. It also implemented new social rules in order to make the Bhutanese people come out from their situation of servitude. In 1972, the notion of "National Gross Happiness" is used for the first time.
In 1974, the new crown King Jigme Singye Wangchuck finally opened the borders of the country to foreigners. In 2005, he ordered to write a new constitution making Bhutan a parliamentary democracy and abdicated in the favor of his son, Jigme Khesar Namgyel Wangchuk, still ruling today.
GEOGRAPHY
Bhutan shares its borders with China in the north and India in the south.
Its topography varies from 100 to 7553 meters. In the south are the plains of the country, in the center lays the region of hills and high plateaus and in the north one can find Himalayas with their highest point: the Kula Kangri (7553m). 70% of the territory is covered with forests and the majority of its population is located in the valleys and the high plateaus of the west of the country.
CLIMATE
Bhutan enjoys a subtropical climate in the plains of the south of the country, a temperate climate at the center and an alpine climate in the high mountains of the north. The country has a rainy season called monsoon during the months of June, July and August and a dry season from November to March
The best time to visit Bhutan runs from October to November during the autumn and from March to May during the spring.
FAUNA AND FLORA
Because of inhospitable landscape, variable climate from north to south, scattered population and few and much controlled human activity, Bhutan enjoys one of the best preserved ecosystems in the world and is ranking 10th position for species variety in the world.
We can find 5500 vegetal species, 770 bird species and 165 mammal species. Among them, takin (a goat head on a cow body) is the national animal and endemic of this part of the world. We can also find yaks and snow leopards in the mountains, red pandas, monkeys and deers in the jungle and elephants and tigers in the plains.
RELIGION
75% of the population practices Vajrayana Buddhism or Tibetan Buddhism which is also the state religion. Rest of the population is hindu, mostly with Nepali influence.
GASTRONOMY

The Bhutanese food is mostly made from red rice, buckwheat and maize. The national dish is hemadatsi, a mix of red rice and white rice and spicy cheese. Bhutanese also eat meat: chicken, yak, smoked beef, mutton and pork. The Bhutanese cuisine is generally spicy.
CURRENCY
The ngultrum. 1,00€ = 70 Nu / 1,00$ = 63 Nu / 1,00£ = 80 Nu
LOCAL TIME

Thimphu time is GMT+6:00
Travel to Bhutan
ADMINISTRATIVE FORMALITIES
If you want to visit to Bhutan, you should get the visa before travelling to the country. For this, only an agency operating in Bhutan can apply for it directly to the Bhutanese immigration, in Bhutan. A document will then be sent to you, that you need to show to immigration while landing at Paro airport.
For this reason, it is compulsory to use the services of a company registered with Bhutan government to arrange your trip in the country.
LANGUAGE
Hello : Kuzu zangpo la
Good Bye : Naba che gey
I am American : Nga America lay in
My name is... : Nga gi ming … in
Yes / No : Ing / Men
Thank you : Kadrin chhe la
No Thank you : Me ju
Sorry : Tsip maza
Yesterday / Today / Tomorrow : Khatsa / Dhari / Naba
It was tasty : Zhim bay
Water : Chu

BHUTANESE CUSTOMS

- When you click someone's photo, always ask first before taking it. Please also note that it is forbidden to click photos inside monasteries.
- During monastery visit, you will be asked to take your shoes off before entering and to uncover you head in order to respect the holy place. It is highly appreciated to give a small donation on the shrine. Ask advice to your guide.
- While visiting a chorten or a stupa, don't forget to walk clock wise around the edifice.
- Generally, prefer long dresses covering your shoulders and your legs and hiding your neckline.
- Any form of intimacy in between man and woman is a taboo in Bhutanese culture. Avoid to hold each other's hand, to hug each other and to kiss each other in public places.
- Finally do not forget the tradition of tips for your guide, your porter and the trekking team. They expect to receive something from you at the end of your trip.
Security In Bhutan
TRAVEL INSURANCE

We insure our local teams but not our customers.
It is, for this reason, essential that you contract a travel insurance before coming to Bhutan. This one should cover 100% of your repatriation costs if you fall sick or get hurt and you cannot continue the trip. Make sure that your insurance contract covers the costs of your evacuation higher than some altitude (as it is not always the case) as well as the costs of repatriation of a dead body (as it is not always the case as well!).
ALTITUDE SICKNESS

The Acute Mountain Sickness or Acute Altitude Sickness can touch anyone higher than 3000 meters id the body is not properly acclimatized. The main causes are a too-quick ascend and a lack of hydration. First symptoms are headache, tiredness, insomnia and a loss of appetite. If these symptoms appear, it is a sign that your body is not acclimatized enough. It means that you have to stay at this elevation waiting for them to disappear.
If symptoms get worse (extreme tiredness, vomiting, loss of coordination, short breath, cough…) it can be an high altitude cerebral or pulmonary edema. These two kinds of edema can be quickly fatal if ignored. You immediately have to lose altitude and descend several hundreds meters.
To avoid this, your body need a proper acclimatization and hydration, so take your time and drink a lot. There is also a preventive and curative treatment: Diamox (ask to your doctor).
Travel with NepalaYak
By choosing NepalaYak as your trip operator you have read and accept our general terms and policies mentioned below:
INSURANCE
We insure our local teams but not our customers.
It is, for this reason, essential that you contract a travel insurance before coming to Bhutan. This one should cover 100% of your repatriation costs if you fall sick or get hurt and you cannot continue the trip. Make sure that your insurance contract covers the costs of your evacuation higher than some altitude (as it is not always the case) as well as the costs of repatriation of a dead body (as it is not always the case as well!).
GUIDE AUTHORITY

The guide or the group leader has full authority on the group. While going under NepalaYak management you agree with this.
If you commit an illegal action and/or if you show behavior harmful for the rest of the group, your guide can ask you to leave the group without getting your money back.
If your guide believes that your health condition is not good enough to complete properly the trip, he can also ask you to leave the group without getting your money back.
TRAVEL RATE

NepalaYak is given the right to modify the cost of its trips in case of events independent of our control: government action, increase of our contractors' rates, euro/dollar exchange rates… Efforts will of course be made to avoid the change of the initial rate fixed by us.
QUALITY OF SERVICE
You are spending your holidays in Bhutan, a developing country. For this reason, it is important to remind that western standards are not the same here. We try our best to offer you a service accordingly with your expectations but sometimes, this one will be under what you were hoping for. Thank you for your understandings.
Thought, NepalaYak listens to your suggestions. If we can, itinerary, hotel changes will be made during the program. It is not a modification of your trip and these changes will not be financially compensated.
FORCE MAJEURE
In case of force majeure (weather, government action, accident, natural catastrophe…) independent from us, NepalaYak will has the right to modify the progress of your trip for the comfort and the security of all. In no case these modifications will be financially compensated.
Trekking equipment
12 kilos maximum (for the porter) + 1 daily backpack
A duffel bag or backpack (arrange something easy to carry for your porter) + big plastic bag to protect your clothes in case of rain
A backpack (30 litres) for your daily stuff, it could be your hand luggage during your international flight
A sleeping bag
Trekking shoes
A pair of relaxing shoes for evening
A pair of sleepers
Down jacket or lighter if you trek at low elevation
Two fleeces: 1 light + 1 thick
Raincoat / poncho / umbrella
Shirts / T-shirts according to everyone's preferences
Trousers, pantacourts, shorts
Thermal underwears (for cold season or high elevation)
Swimming suit (in case of hot springs during the trek or swimming pool in Kathmandu)
Sun hat, sun glasses, sun screen, lipsticks
Woolen hat and gloves (if cold season or high elevation)
Headlight
Trekking poles
Water bottle
Toiletry and hygiene kit (wet wipes are useful if there is no shower)
Toilet paper
Pharmacy kit (your personal medicines, painkiller, anti-diarrhea, eye drops, minor wounds kit, purifiying water tabs, mosquito repellent, ear plugs…)